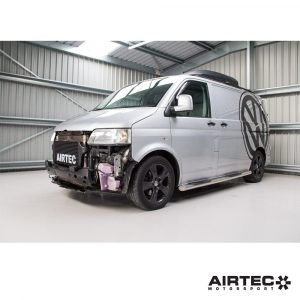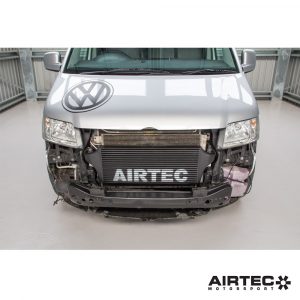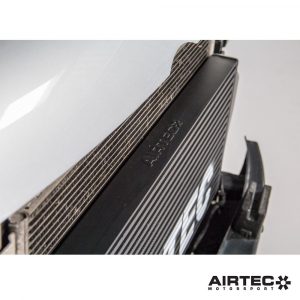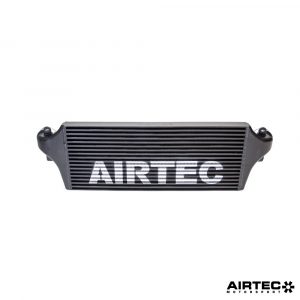 TECHNICAL DATA
AIRTEC Motorsport Front Mount Intercooler for VW Transporter T5 / T6.
Developed in house at AIRTEC Motorsport HQ, our uprated intercooler solution to suit the Transporter T5 / T6 offers a much larger capacity core and is finished with CAD designed, smooth cast end tanks to ensure increased flow and maximum cooling efficiency.
The finished design features our race proven bar & plate core design, which offers the increased performance increase for modified T5 & T6 owners.
Retaining original fittings, this kit is a simple plug and play install, with no drilling or cutting required.
Features:
Race proven bar & plate core
CAD designed smooth cast end tanks
Uses OEM fittings and fixtures
No cutting or drilling required
Comprehensive full fitting guide
Available only in Pro-Series Black
Intercooler only, uses original boost pipes
Will fit the following vehicles:
T5.1 1,9 TDI (5.1) 62-63KW/84-86PS engine code: AXC, BRR (2003-2009)
T5.1 1,9 TDI (5.1) 75-77KW/102-105PS engine code: AXB, BRS (2003-2009)
T5.1 2,5 TDI (5.1) 96KW/131PS engine code: AXD, BNZ (2003-2009)
T5.1 2,5 TDI (5.1) 128KW/174PS engine code: AXE, BPC (2003-2009)
T5.2 2,0 TDI (5.2) 62KW/84PS engine code: CAAA (2009-2016)
T5.2 2,0 TDI (5.2) 75KW/102PS engine code: CAAB (2009-2016)
T5.2 2,0 TDI (5.2) 84KW/114PS MKB:CAAD (2011-2015)
T5.2 2,0 TDI (5.2) 100KW/136PS engine code: CAAE (2009-2016)
T5.2 2,0 TDI (5.2) 103KW/140PS engine code: CAAC, CCHA (2009-2016)
T6 2,0TDI 62-77KW/84-102PS engine code: CAAA, CAAB (2015+)
AIRTEC part no: ATINTVAG40